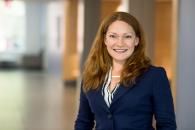 The Haffenreffer Museum is pleased to announce the appointment of Professor Bathsheba Demuth as a Faculty Associate of the Circumpolar Laboratory. 
Demuth is an Assistant Professor of History and Enviroment and Society, specializing in the historical intersections of people, ideas, places, and non-human species in the Russian and North American Arctic. She partnered with the Haffenreffer Museum as a Faculty Fellow in 2018-2019, incorporating Museum collections in her course The Arctic: Global History from the Dog Sled to the Oil Rig. "My students were particularly excited to see physical versons of themes we had read about in class," recalled Demuth in the 2019 issue of Contexts. "In particular, after several weeks learning about how Iñupiat and Yup'ik cultures understand human relationships with the natural worlds as filled with transformation - people becoming animals, animals becoming people, and other shifts in shape - seeing how these same concepts are expressed in artwork was a highlight of the semester." Demuth's new book is entitled Floating Coast: An Enviromental History of the Bering Strait (W. W. Norton and Co., 2019). 
The Haffenreffer Museum looks forward to continued collaboration with Professor Demuth through her position as a Faculty Associate.