Haffenreffer Museum of Anthropology
Archive
The Haffenreffer Museum's Archival Collection.
Archive
The Haffenreffer Museum's Archival Collection.
The Haffenreffer Museum of Anthropology archival collections are comprised of materials of cultural and historical significance that enhance the research value of the ethnographic and archaeological collections. In order to provide primary sources for our collections by supporting the Museum's Mission Statement, the archives are focused on materials that directly relate to or accompany acquisitions. In addition, the Collection Research Center library contains over 10,000 volumes, which provide a vast resource of reference materials for researchers.

Access Finding Aids through RIAMCO
Our extensive archival holdings include: our founder Rudolf F. Haffenreffer's museum records; publication files and images; archaeological and ethnographic fieldwork notes and photographs; student theses, dissertations, and research projects; donor photographs and collection notes; past exhibit documentation including text and images; collection related images, film, video and audio as well as research notes from visiting artists and scholars and Education Department archive and lecture videos.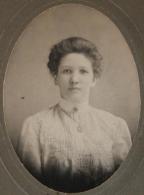 Emma Shaw Colcleugh (1846-1937) was a Rhode Island schoolteacher, traveler, and journalist who collected hundreds of ethnographic objects during trips through the North American Subarctic, Arctic, the Pacific, Caribbean, Africa, and South America. 
Colcleugh, one of a select group of nineteenth-century women who chose to venture into unknown lands for professional purposes of journalism and personal pursuit of adventure, was sponsored in her travels by New England newspapers to which she sent descriptive and anecdotal reports for publication. (Hail, Out of the North, 1989).
In 1930, Colcleugh sold 218 artifacts from her personal collection to Rudolf F. Haffenreffer.  Four scrapbooks created by Colcleugh were donated to the museum in 1990 and contain clippings of many her newspaper articles. Colcleugh and her subarctic collection are extensively documented in the book, Out of the North: The Subarctic Collection of the Haffenreffer Museum of Anthropology.  Studies in Anthropology and Material Culture, Volume 5. Hail, Barbara A., and Duncan, Kate C. (1989.)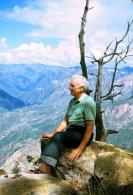 Rhode Island artist Gino E. Conti (1900-1983) took over 3,700 photographs in the summers of 1958, 1962-1965, and 1969-1973 documenting life on the Hopi, Apache, and Navajo (Dine) reservations, as well as visits into northern Mexico with the Tarahumara. During these travels, Conti also collected numerous Hopi Katsina dolls, (including a large sample by Wilson Tawaquaptewa) blankets, pottery, and other objects. The bulk of these ethnographic collections and photographs were bequeathed to the museum. The archival collection also includes a number of items not related to the photographs such as sketches, postcards, religious and architectural images, newspaper clippings and a few exhibition flyers featuring Conti's work.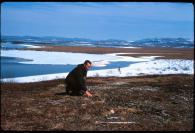 Giddings (1909-1964) was named the museum's first Director and Brown University's first anthropology professor after the Haffenreffer Family gifted the Museum and Mount Hope property to Brown University in 1955. A pioneer of dendrochronology and a preeminent Arctic archaeologist, J. Louis Giddings was a prolific writer, publishing over 70 articles in academic journals and several seminal books on Arctic cultures and archaeology. This archival collection encompasses the years from 1937 until 1967, with the bulk of the material ranging from 1956 to 1964. It contains materials such as business records related to his numerous archaeological expeditions to Alaska, including expense reports, invoices, purchase orders, field notes, grant applications, biographical notes, book reviews, manuscripts, and conference proceedings. In addition, the archive includes some early business records of the Haffenreffer Museum of the American Indian. Also included in this collection are correspondence, newspaper clippings, printed material, photographic prints, slides, and films. Additional materials were collected by his wife, Ruth (Bets) Warner Giddings and represent continued work on Giddings' archaeological sites in Alaska by his colleagues after his untimely death in December 1964.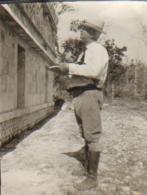 Spinden (1879-1967) worked as an anthropologist, archaeologist, ethnographic art historian, and scholar.  He held Curatorial positions at: The Peabody Museum, Harvard; The American Museum of Natural History, New York; The Buffalo Museum of Arts and Sciences; and The Brooklyn Institute (later the Brooklyn Museum).  
In 1913 he published A Study of Mayan Art and in 1917 The American Museum handbook, Ancient Civilizations of Mexico and Central America.  In 1924 Spinden published The Reduction of Maya Dates, which was an attempt to correlate the Maya calendar with the Gregorian calendar that was later disproved.  Before his death, Spinden had been attempting to correlate historical astronomical events to Mayan records. This research led to consultations with Brown's first Director of the Ladd Observatory, Charles H. Smiley (1903-1977). After Spinden's death, Spinden's widow gifted his personal archive to the university's Ladd Observatory. The Ladd Observatory then later transferred an extensive part of this material to the Haffenreffer Museum.
The Museum's Spinden archive contains over 20,000 images and documents related, for the most part, to Central American archaeology and ethnography from the early 20th century.  Of particular note are some original manuscripts and images of important archaeological sites that have since been altered or destroyed.
The Kensinger Collection contains over 5000 photographs, many hours of audiotapes and extensive field notes from anthropologist/ethnographer Ken Kensinger's (1931-2010) research with the Cashinahua of Peru from 1955-1996.  This archive enhances Kensinger's ethnographic collection of nearly 600 traditionally made Cashinahua objects, including spectacular feathered headdresses.  Published and unpublished manuscripts authored by Kensinger and other scholars round out this impressive archive.
For more information about the Cashinahua and Kensinger's fieldwork, see the publication: Kensinger, K. M., et. al. (1975). Cashinahua of Eastern Peru. Studies in Anthropology and Material Culture, Volume 1. Bristol, Rhode Island: Haffenreffer Museum of Anthropology. Edited by Jane Powell Dwyer.
27 linear feet
Exhibition Records
8 linear feet
Event Videos
7 linear feet
Publications
242 linear feet
Collection Images
(Slides, transparencies, paper photos.)
27 linear feet
Photo Archive
258 linear feet
Museum Archives
650 linear feet
Reference Library
50 linear feet
Registration Records
These holdings are not yet digitally accessible. If you would like to access them for your research, please contact the Museum: HaffenrefferMuseum@brown.edu. 
Costs of reproducing documentary materials and photographs may be charged to investigators. No distinctions in such charges shall be made on the basis of the value or rarity of the original materials. Methods of reproduction may be limited if necessary to protect the originals from possible damage.
The Haffenreffer Museum of Anthropology retains copyright on all images in our collection.
Any use of Haffenreffer Museum images requires expressed permission. Certain fees may be charged and payment is required before permission can be granted. Submit the Image Permission Request Form to HaffenrefferMuseum@brown.edu.