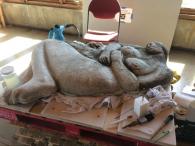 Conservation treatment is complete on the sculpture Satisfied Woman, donated to the Haffenreffer Museum in 2018 by J. Scott and Cynthia Burns. The life-size sculpture made of Colorado marble, created by Native American artist Bob Haozous in the mid-1970s, depicts a woman in repose. 
When the sculpture arrived at the Museum, it was in need of cleaning to restore the appearance of its surface contours. The marble had significant layers of dirt and lichen embedded into its surface, which had caused some staining. The Museum contacted Haozous to ask his advice and permission to care for the sculpture.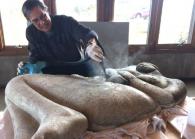 Jean-Louis LaChevre Object ConservationWith an additional gift from J. Scott and Cynthia Burns, the Haffenreffer Museum contracted Jean-Louis LaChevre Object Conservation to advise and complete the delicate cleaning of the sculpture. His expertise and insight were highly valuble in restoring the sculpture, using specialized methods that preserved the integrity of the artwork without causing damage to the porous stone. LaChevre first used a steamer to soften the accretions before applying poultices. Then, he slowly and carefully brushed and vacuumed remaining dirt from the surface. As the work was completed, the Satisfied Woman seemed to grow in presence.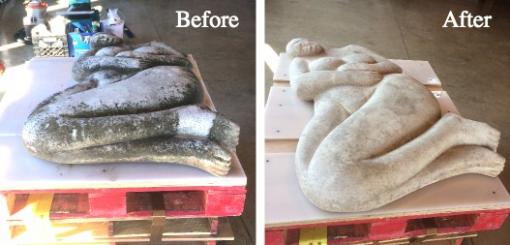 Conservation is a vital part of the Museum's activities. These efforts aim to preserve items in the collection for future research, exhibition, and to fulfill the Museum's mission to steward material culture in a manner consistent with the traditions of their makers.