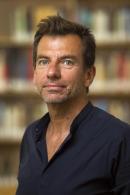 The Haffenreffer Museum of Anthropology is pleased to welcome Yannis Hamilakis, Joukowsky Family Professor of Archaeology and Professor of Modern Greek Studies, as the newest Faculty Fellow. Hamilakis will be using the museum's collections to support the development of courses and course components for 2019-2020.
Yannis Hamilakis researches and writes on the archaeology of the bodily senses, on the politics of the past, on nationalism and archaeology, on food as biopolitics, and on the archaeology of contemporary migration. He excavates and carries out archaeological ethnography work in Greece. His publications include, The Nation and its Ruins: Antiquity, Archaeology,  and National Imagination in Greece (2007), Archaeology and the Senses: Human Experience, Memory, and Affect (2013), Camera Kalaureia: An Archaeological Photo-Ethnography (2016, with Fotis Ifantidis), and the edited collection, The New Nomadic Age: Archaeologies of Forced and Undocumented Migration (2018). He has also co-curated with students three photographic and object exhibitions at Brown. Since 2018 he has been working on the border island of Lesvos in Greece, exploring the materiality of contemporary migration. 
The Haffenreffer Museum's collections include objects from every area of the world, with particular strengths in historic and prehistoric North, Middle, and South America, Africa, and South Asia. The Haffenreffer's exhibition spaces and its CultureLab, both in Manning Hall, are convenient for teaching purposes that might include class visits, student research projects, work on exhibitions, or other assignments. Current users include faculty and students from Anthropology, History, the Joukowsky Institute, American Studies, and Ethnic Studies. We encourage faculty from all disciplines to consider adding a material culture component to their teaching.
We are happy to welcome Hamilakis as this year's Faculty Fellow to the Haffenreffer Museum of Anthropology community, and look forward to collaborating with him throughout the year.
Learn more about the Faculty Fellowship program on our website.