The Haffenreffer Museum is proud to welcome Dr. Pınar Durgun as the new Curatorial Assistant for the "Engaging the Americas" Project. The project is funded by a four-year, $500,000 grant awarded by the Andrew W. Mellon Foundation in April 2018, and will enable the Haffenreffer Museum to document, conserve, and reorganize the ethnographic and archaeological objects in the Haffenreffer collections. The grant will also enable the Museum to reorganize and rehouse Rudolf Haffenreffer's archaeological specimens from New England, especially the Narragansett basin.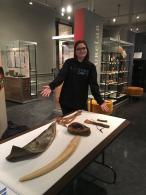 Pınar is an archaeologist with a background in art history and anthropology, fascinated by the diversity of cultural reactions to death and dying both in the past and today. She graduated from Bilkent University's Archaeology and History of Art Department in 2010 with High Honors. As an undergraduate, she interned at the Anatolian Civilizations Museum in Ankara and worked at several archaeological excavation projects in Turkey. Pinar went on to earn a Masters in 2012 in Koc University's Anatolian Civilizations and Cultural Heritage Management Program. Pınar joined Brown University in 2012 as a Fulbright grantee. During her doctoral studies, she participated in projects and internships that integrated public archaeology, archaeological heritage, and museum studies. She worked at Haffenreffer's education programs and worked in the Museum's gallery as a Visitor Service Coordinator. After graduating, Pınar taught archaeology, anthropology, and art history courses at Brown University, Connecticut College, Providence College, and Wesleyan University. When she is not in her office or in the museum, she is at a historical cemetery somewhere in New England admiring gravestones.
As Curatorial Assistant, Pinar's work is focused on the "Engaging the Americas" project. Her main responsibilities include inventorying collections, documenting objects, and verifying records. She is excited about working on stone tools in the collection as she is an amateur/beginner flint knapper. Pınar is especially interested in how museums help us understand, protect, and engage with the past. One of her goals is to enhance the accessibility of the collection and to make this collection useful for different audiences, including the public, researchers, students, and indigenous communities.