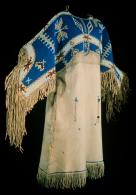 With a new $500,000 grant from the Andrew W. Mellon Foundation, Brown University's Haffenreffer Museum of Anthropology will launch a four-year project that will strengthen scholarship on the Museum's Native American and indigenous collections and make them more accessible.
The project will enable Museum staff to document, conserve and reorganize the ethnographic and archaeological objects in the Haffenreffer collections, including textiles and photographs, so they are easier for researchers to work with and more readily available for public engagement.
"We are thrilled to have received this grant," said Robert Preucel, Director of the Haffenreffer Museum. "It will make our collections more accessible for research, teaching and public exhibition and enhance Brown University's commitment to Native American and indigenous studies." 
The Haffenreffer Museum, founded in 1956, sponsors original research, innovative teaching and public education while stewarding a collection of over one million archaeological and ethnographic objects, Preucel said. Its mission is to educate the Brown community and the general public about similarities and differences in human societies and to promote cross-cultural understanding.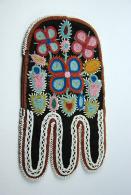 Among the Museum's holdings are Native American textile collections that are an especially valuable resource for understanding weaving traditions, costume and cultural identity, and ritual practice, according to Preucel. They range from Chilkat blankets of the Pacific Northwest to woven rugs and blankets from the American Southwest, and from the richly decorated textiles of Mexico, Guatemala and the Kuna of Panama to the elaborately woven masterworks — both ancient and modern — of Andean South America.
In addition to these collections, the Mellon grant will enable the Museum to reorganize and rehouse late collector Rudolf Haffenreffer's vast trove of archaeological specimens from New England, especially the Narragansett basin.
"Ongoing analyses of Haffenreffer's artifacts are providing new information on cultural developments and responses to climate change and global sea level rise at the end of the last Ice Age," said Kevin Smith, Deputy Director of the Museum. "Through careful reorganization of his collections, there is obvious potential for creating new knowledge and research opportunities for understanding changing patterns of Native American settlement and cultural change over 13,000 years."
The Mellon grant will help steward these artifacts, preserve the beadwork and organic materials, and advance research and scholarship. These efforts coincide with the establishment of a Native American and Indigenous Studies Initiative at Brown (NAISAB), an interdisciplinary undertaking intended to foster scholarship about and with Native American communities.