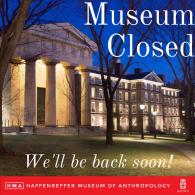 The Haffenreffer Museum's public gallery at Manning Hall will be closed Saturday, March 24th, until May 11th during exhibit installation.
Other Museum operations, like our outreach programs, events, research, and general communications, will continue as normal.
The Gallery will reopen for the Exhibit Opening and Reception for two new exhibitions: "Drone Warriors: The Art of Surveillance and Resistance at Standing Rock" and "'Sacred is Sacred': The Art of Protecting Bears Ears."
More updates will be posted as they become available. If you have any questions or concerns, please email [email protected] or call our office number: (401)863-5700