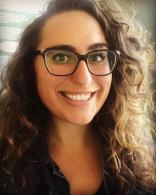 We are proud to welcome Annalisa Heppner to the Haffenreffer Museum team as new Project Coordinator for the inventory and rehousing of the Alaskan archaeological collections. Heppner joins us from Portland, Oregon, where she has been working as an archaeological project manager for a cultural resources management firm. Hepner holds an MA from the University of Alaska, Anchorage, with experience in Northwestern and Western Alaskan archaeology and ethnography. She has also helped manage sensitive collections in academic and museum settings.  
In October 2017, the Haffenreffer Museum and National Park Service entered into a three-year cooperative agreement to inventory and rehouse the National Park Service's Alaskan archaeological collection curated in the Circumpolar Laboratory.
The Haffenreffer Museum's Arctic collections represent the life's work of two of the Western Arctic's most influential archaeologists – J. Louis Giddings, the Haffenreffer Museum's first Director, and Douglas Anderson, Director of the Circumpolar Laboratory. Their work has provided the foundations for present knowledge of Western Arctic prehistory and endures as an invaluable resource to scientists, historians, and researchers like Annalisa Heppner.
Throughout her research and fieldwork, Heppner has interacted with the Haffenreffer Museum's Arctic collection from a distance, and says "working with these collections in person [is] an archaeological dream-come-true."
Annalisa Heppner begins her role as Project Manager on February 12th.