Haffenreffer Museum of Anthropology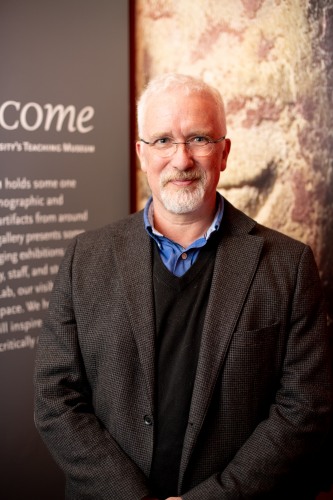 Kevin P. Smith
Deputy Director of the Haffenreffer Museum, Chief Curator
Kevin P. Smith became deputy director and chief curator of the Haffenreffer Museum of Anthropology at Brown University in August 2002. He is responsible for the supervision its staff members, oversees daily museum operations, coordinates collections access, research, and co-directs exhibition projects (including Kayak, Umiak, Canoe; Warp Speeds, and Believing Africa). As an adjunct lecturer in Brown University's Department of Anthropology, he team-teaches courses in its Master's program in Museum Studies and guest lectures, frequently, for several departments and institutes at Brown and RISD. Kevin is an archaeologist interested in complex societies, state formation, law, and human ecology who has worked extensively in Alaska and on the Viking age and Early Medieval periods in Iceland, as well as on the archaeology of mobile hunter-gatherers in Scotland and throughout the continental United States. His Icelandic research has included work on Viking period iron-production, early medieval farming, and a subterranean Viking Age site interpreted variously as an outlaw shelter or ritual complex. He is currently doing research in western Iceland, focusing on a district surrounding the historically important farm of Gilsbakki, a Viking Age chieftain's center that has been occupied continuously for 1100 years. His publications include numerous articles on the archaeology of early historic northern Atlantic societies and on inter-relationships between indigenous texts, oral history, and archaeological data.
Before coming to Brown, Kevin served as associate curator and head of the Anthropology Division at the Buffalo Museum of Science where he was head of research and collection management, ethnographic, and archaeological collections. Exhibits he curated while there include: Through a Clouded Mirror: Africa at the Pan-American Exposition, Buffalo, 1901 (2001 – 2002), The Day of the Dead in Mexico/El Dia de los Muertos en Mexico (1999 – 2000), Whem Ankh: The Cycle of Life in Ancient Egypt (1998 – ongoing), and Along Rivers, Across Seas: Indigenous Watercraft from the Collections of the Buffalo Museum of Science (1994).

Kevin has presented work at numerous national and international conferences, seminars, and workshops. His articles have been published in many publications, including the Cambridge University Press's Bad Year Economics, The Anthropology of Iceland (University of Iowa Press), and World Archaeology.
Kevin earned his B.A. in Anthropology at Haverford College, Haverford, Pennsylvania, and his M.A. in Anthropology at the University of Michigan, Ann Arbor. He is currently a doctoral candidate (A.B.D.) at the Department of Anthropology, University of Michigan.